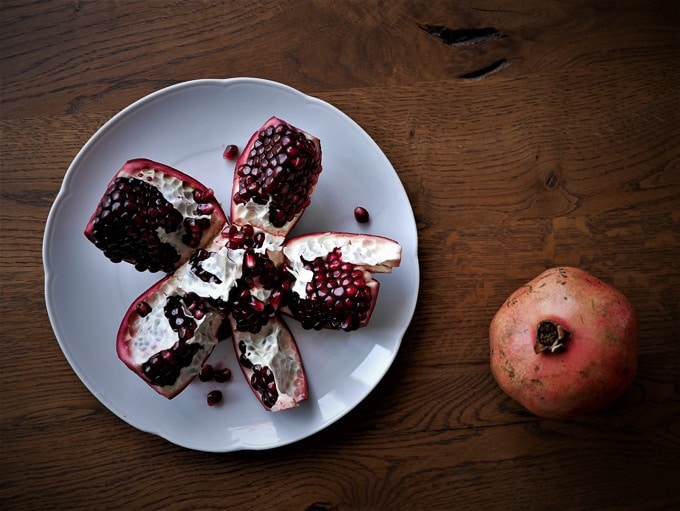 A genius hack: It takes only one minute - no fuzz, no mess!
For many years, I had a love-hate relationship with pomegranates. I loved the taste but detested the mess.
Of course, like many people, I opened pomegranates by cutting them in half (like an apple). What a big mistake! Unlike apples, pomegranates feature hundreds of juicy, sweet, ruby-red seeds that will burst (and stain everything nearby) when cut or squeezed. Ohhh, the mess in my kitchen! (It looked as if a can of pureed tomatoes had exploded. That's the part I disliked.)
Then I came across a trick that minimized the mess: Cut a pomegranate in half and press or peel out the seeds in a bowl of water (under water!). Much better, but still with a bit of fuzz … and it's still time-consuming.
That's why I still had pomegranates only for special occasions, like Christmas, serving "jeweled" rice or Brussel sprouts.
Finally, I discovered the life-changing hack! (Now I want to have pomegranates every day.)
It's so easy; I can't even imagine opening pomegranates any other way now (That's the beauty of great solutions, right?). It takes only one or two minutes, leaves the kitchen pristine, creates an aesthetically pleasing pomegranate "flower", and you can even eat the individual segments like apple slices!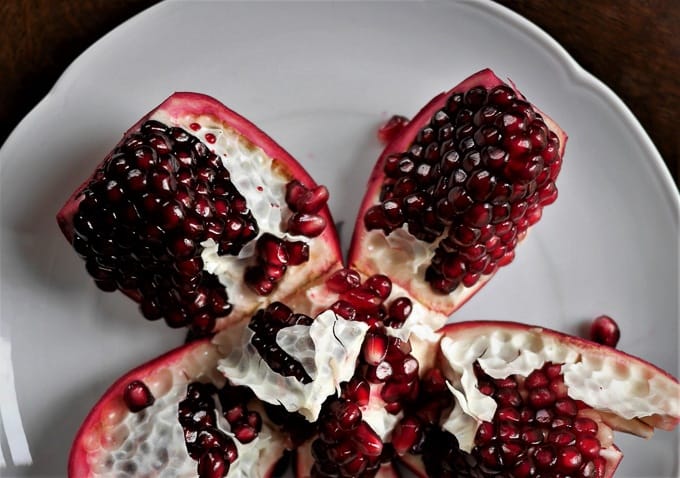 Ok, here is how it goes:
Cut off the top part (the crown) of the pomegranate.
Identify the individual segments within the pomegranate by looking out for the white "skin" that divides the sections.
Cut the outside of the pomegranate along the identified segments (not too deep, just how you would cut the peel of an orange).
Break the pomegranate gently open with your hands into the individual segments. The result should resemble a beautiful "flower".
Remove any white skin before indulging in the fruity sweetness.
If you're a visual person, watch the following video how-to.
Did you know about this hack? Do you have any other hacks with pomegranates?
Psst, Crunchy Apple Peel Chips and a Simple, delicious tomato sauce (using a little trick).