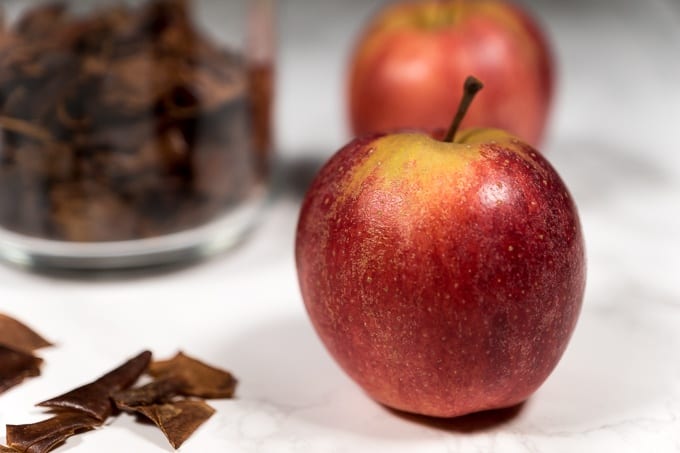 It's the end of September and the apple season has just begun, hooray! Shiny red, yellow, or green apples fill whole baskets at the farmer's market, and my fruit bowl at home is full to bursting with these local delicacies. I like eating them in all variations: As a fresh fruity snack, cut into small pieces over my granola bowl in the morning, as a smoothie ingredient, in apple crumble cake, apple oat cookies, and also as apple sauce.
I prefer eating whole apples, that is, unpeeled – not only because I like the taste of the skin, but also because it is said to contain a lot of vitamins, and because I don't like wasting food. But since some recipes require peeled apples, e.g., apple sauce or apple pie, I often have big bowls filled with apple peel left over. Much too tasty to throw away! So I had the idea to dry the pretty peel curls in the oven to see if they make a yummy snack.
Oh, what a joy that they do! I find them not only delicious as an independent fruity-sour crunchy snack, but also as fruit tea infused with hot water. My favorite way of eating them is sprinkled over my granola bowl in the morning, as they add an extra fruity flavor and crunchy texture.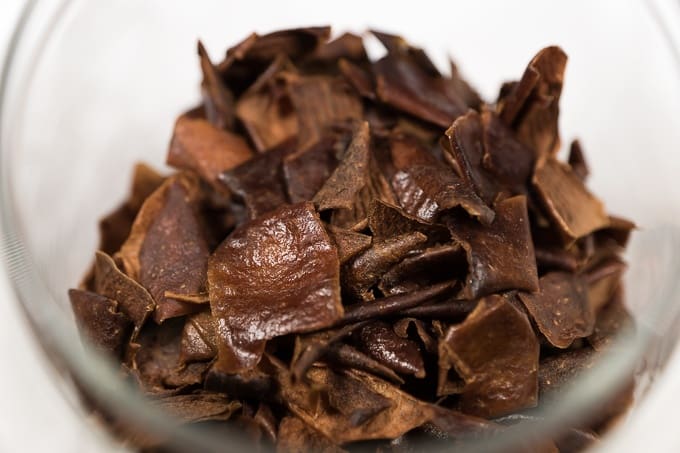 Recipe
Crunchy Apple Peel Chips – A Healthy Snack and Perfect Addition to Your Breakfast Granola Bowl
Apple peel chips are not only a delicious, crunchy, and healthy snack, but also a perfect addition to your breakfast granola bowl.
Ingredients
Apple peels from about 2 kg/4.4 lb of apples
Instructions
Preheat the oven to 100° C (212° F).

Cut the apple peels into cubes of equal size (about the size of a thumbnail). This step is important because this size they dry more evenly than apple peel curls.

Spread them evenly on a baking tray lined with baking paper and bake them for about 1.5 hours. I open the oven door every now and then (about every 20 minutes) to get rid of the excess moisture.

The apple peel chips are ready when they start to brown slightly. I watch them carefully after 1 hour in the oven because they will change within minutes from "slightly brown" to "very brown" (the latter state tastes rather burned).

Allow to cool completely, then store in an airtight container, e.g. a jam jar. If they are left open for too long, they lose their crispness. The apple peel chips can be stored for several weeks.