If you're like me and enjoy a nice walk in the woods or a lovely park, you might notice a strong garlicky scent from February to April. When you do, follow your nose and you'll find the delicious wild garlic (also known as ramsons, buckrams, wood garlic, crow garlic or beer leak), which is pretty easy to identify with its broad, elegant leaves. As the name implies, the plant is similar to regular garlic, not only in terms of scent but also in terms of flavor; the wild garlic, however, tastes milder and fresher.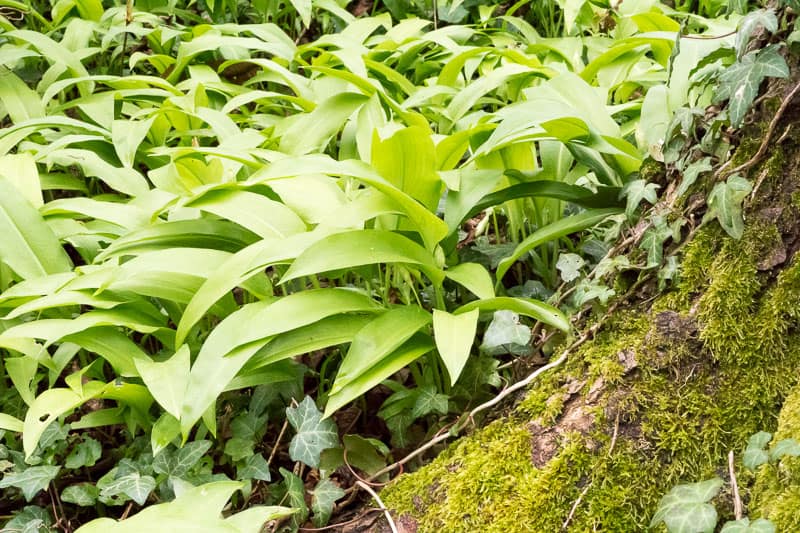 In spring, wild garlic is one of the first edible wild plants available, so I can barely wait for its season to start – a rather short season as the leaves are especially big on flavor before too many flowers appear. Still, these couple of weeks you can forage baskets full of leaves because wild garlic grows abundandly, forming vast green carpets; this way, you needn't be shy when picking leaves.
Did I mention its health benefits? It is said that wild garlic is an immune booster because of high levels of vitamin C; moreover, it's supposed to be anti-inflammatory, to lower blood pressure and to help with digestion.
Now let's talk about the endlessly versatile leaves: For example, they are great as pesto (substituting basil), in cream cheese, as soup addition, in a risotto, with maccaroni, or as an alternative to spinach. You can find my recipe for wild garlic cream 'cheese' here.
By the way, not only the leaves are perfectly edible, but also the buds and the flowers, which make an appealing addition to a salad.
Some Recommendations for Harvesting and Using Wild Garlic
Pick healthy young leaves from places with little human or animal traffic.
Pick only as many leaves as you need for your meal, and ideally just one leaf per plant so that it can regenerate.
At home, you can store the leaves in a glass filled with water or wrapped in a humid cloth to keep them fresh for 3 to 4 days in the fridge.
Before using, wash the leaves thoroughly.
Like most herbs or wild foods, wild garlic is most flavourful and nutrition-dense if used raw or mildly heated; if you're going to use it cooked, add it to the dish just before it's done.
Wild garlic resembles two poisonous plants: Lily of the valley and meadow saffron (autumn crocus, naked lady). If you're not sure, grind the leaves between your fingers to check for the typical garlicky scent of wild garlic. If it doesn't smell at all, it's most probably something else. You can find a lot of information on the internet to better differentiate these plants, for example at The Greedy Vegan blog or The Foraged Foodie blog.