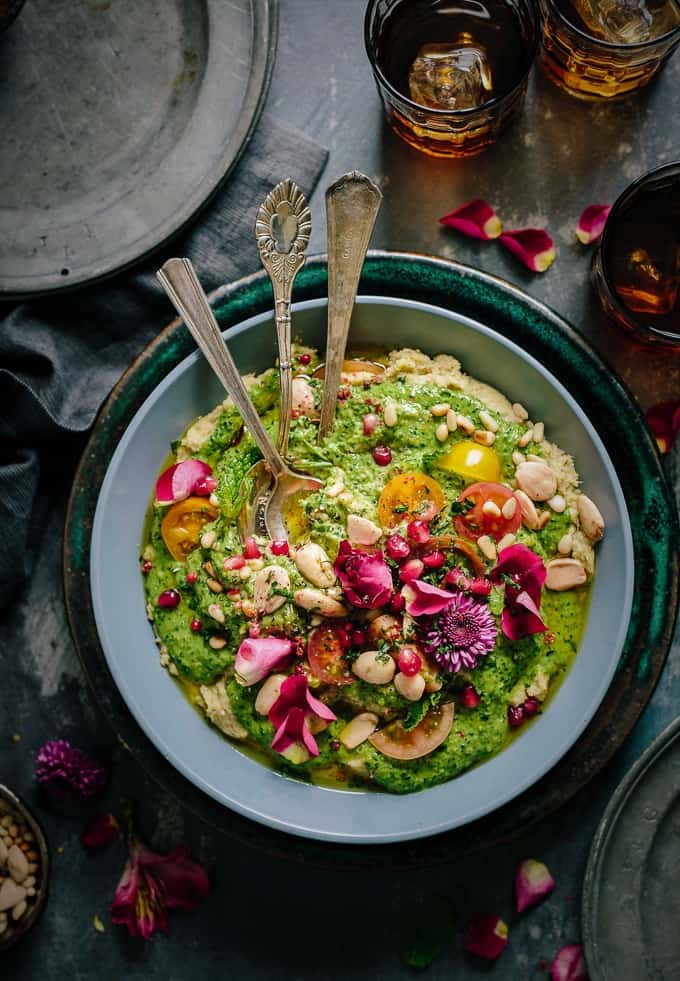 These famous non-vegan chefs (and food magazines) know a thing or two about food. But do their plant-based recipes also pass the taste test? (Spoiler alert: They do!)
Nigella Lawson
When I came across Nigella Lawson's Dark and Sumptuous Chocolate Cake on several internet sites, everywhere with rave reviews, I was persuaded to give it a try. What struck me the most was the fact that it was – vegan! I enjoy watching Nigella Lawson's cooking shows, some of which are also aired on German TV, although she's a chef fond of generously using butter, eggs, and other animal products. What a surprise that she's created an entirely plant-based torte that everybody seems to love. This shows me that plant-based baking (and cooking) has reached a tipping point – stepping out of niche existence and into the mainstream.
My verdict: Nigella Lawson's chocolate cake is as luscious, dark, and delicious as she and the people who tried it describe it. My whole family (vegan and non-vegan) was taken with it.
On nigella.com, you can find more than 60 vegan recipes (use the search function).
Jamie Oliver
The British celebrity chef Jamie Oliver is cited on the internet as saying that the future is about a plant-based diet. I can see that he is shaping this future – his website features a whooping 150 purely vegan recipes.
Martha Stewart
The famous American chef and businesswoman's "How to …" descriptions and basic cooking lessons will teach you how to make quick sauerkraut, cook perfect brown rice, turn lemon zest into candied treats, or make a vegan pie crust, to name a few. It's worth checking the "vegan recipes" category on her website.
Rachel Khoo
The British cook with Chinese roots, a patisserie degree from Le Cordon Bleu in Paris, and a Swedish husband is a polyglot gourmet who likes to explore different culinary traditions. I enjoyed watching her TV shows "The little Paris kitchen" and "My Swedish Kitchen" and was particularly delighted to notice that she started featuring vegan recipes in her latest shows. You should give her Swedish style falafels with red cabbage and dill a try.
Nadiya Hussain
Nadiya Hussain, the second-generation British Bangladeshi, comes across as approachable, friendly, and fun-loving. Her TV cooking shows always make me happy. It's humbling to think of all that this incredible woman has achieved despite the panic attacks she's been suffering all her life (she writes about her experience on her website). Nadiya Hussain was named as one of the 500 most influential people in the UK and was on BBC News' 100 Women list.
On The Happy Foodie, you can find plenty of Nadiya Hussain's recipes. Since not all her vegan recipes are tagged as such (for example, these Turmeric and Ginger Diamonds or the Ginger Rice with Spiced Chickpeas), it's advisable to take a closer look at all her gorgeous recipes. Besides, many of her non-vegan recipes are easily "veganizable". I made the Piccalilli Macaroni Cheese swapping the regular cheese for vegan cheese (also vegan cream cheese and vegan butter) and skipping the egg – the outcome was to die for; it's quickly become a family favorite.
Yotam Ottolenghi
The Israeli-born British chef is famous for his Middle-Eastern recipes. His many vegetarian and vegan dishes tell his obsession with vegetables. I can't wait to try his Ultimate Traybake Ragù and Bkeila, Potato, and Butter Bean Stew.
You can find more of Yotam Ottolenghi's vegan recipes on The Happy Foodie. I can also recommend his TV show Jerusalem on Plate; it will make you hunger for all those Arabic-inspired and Jewish delicacies.
Vegan recipes by iconic food magazines
I also like using vegan recipes published by iconic magazines. These are some of my favorites.
FOOD52
The Happy Foodie
Bon Appetit
Great British Chefs
Olive Magazine
Taste of Home
If you're in need of yet more vegan recipes, take a look at the recipe pages of Peta, the Blue Zones, and Forks over Knives.
Image at the beginning of the post by Brooke Larks via Unsplash