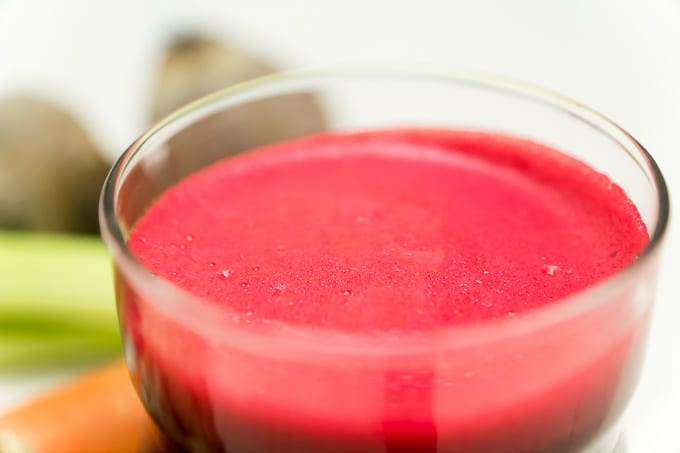 A couple of months ago I ate a salad at a cafe and noticed the waitress serving a ruby red drink to another table. It looked so bright, filled to the brim with vitamins that I had to try it. Granted, I was skeptical when I heard that it's raw beet juice with ginger (I knew beet only in its cooked form), but after I took the first sip I was totally blown away by the drink's sweetness and the depth of flavors. Needless to say, I drained the glass immediately. And decided to go home and put my juicer to work for the first time (it came as an add-on to my food processor, but I never had the chance to try it out).
So, I tried a couple of vegetables and fruits to go with the beet and ginger, and the recipe below was the first winner. An apple, carrots, celery, beet, and ginger...What a heavenly combination! Rich, super sweet and with a slight touch of fire. Tastes rather like a dessert than an extremely healthy beverage. But let me tell you that it is extremely healthy, as I noticed the difference right away: It left me feeling invigorated and energetic.
Give it a try yourself and enjoy it slowly, sip by sip...If you can.
Recipe
Ruby Red Beet Juice with Ginger
Beet juice with ginger: Add an apple, carrots, and celery, and you have a heavenly combination for a juice. Rich, super sweet, with a slight touch of fire.
Ingredients
3

little beets

300g

2

big carrots

200g

1

big apple

200g

2

stalks of celery

100g

15

g

ginger
Instructions
Wash or clean all ingredients. I don't peel anything, but if you feel like it go ahead and do so.

Cut off the ends of the carrots and the beets.

Put everything through your juicer.

Collect the juice and enjoy it.