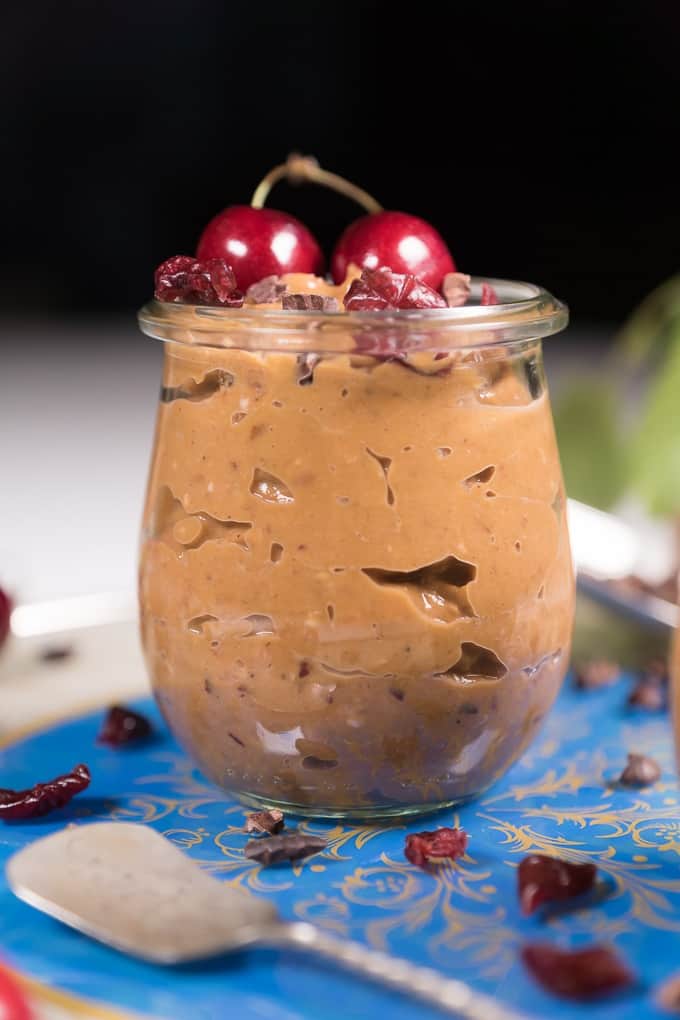 Cherry season is in full swing right now and I can't complain as the harvest is plentiful this year – I've had my share of several kilograms of this sweet, delicious stone fruit.
After satisfying my first cravings, I thought of new ways how to use cherries for making easy, light summer desserts. My first experiment was a direct hit and is already becoming a staple in our family. Who knew that pairing sweet potatoes with cherries could result in such a creamy, sweet, and tasty pudding! And I still can't believe that it's not necessary to add any sugar or sweetener. The pudding is sweet enough from the cherries and the sweet potatoes. Now, if you can't call this treat healthy, I don't know what healthy means.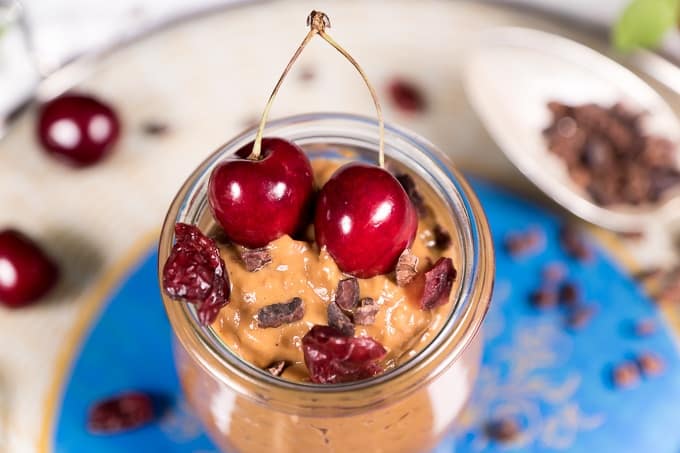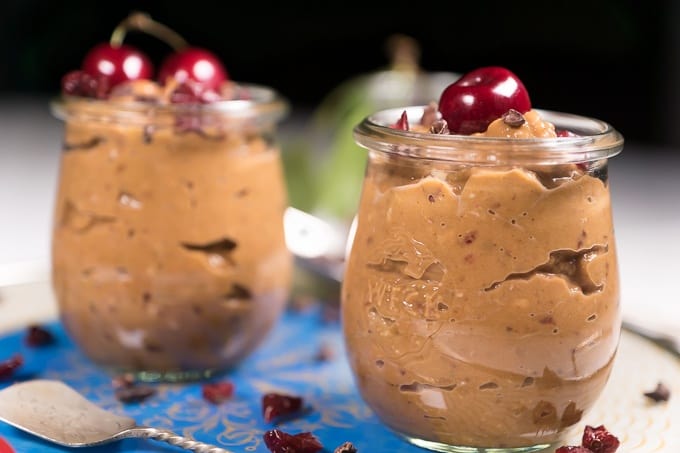 By the way, did I mention that there are oats in the pudding too? They not only make it creamier but also richer and more nourishing. Long story short: You can indulge in this dessert for breakfast. Or lunch. Or have it as a mid-day snack. Or light dinner. Whichever your choice might be, rest assured that it's a healthy one.
Sweet Potato Pudding with Oats and Cherries (With No Added Sugar)
Pairing cherries with sweet potatoes results in a creamy, light and luscious dessert that doesn't require any added sugar. The perfect healthy treat!
Ingredients
Pudding
2

large sweet potatoes

approx. 500 g

750

g

cherries

with pits (approx. 650 g pitted)

3

tablespoons

cashew butter or almond butter

1

teaspoon

ground vanilla bean or cinnamon

4

tablespoons

oats
Topping
2

tablespoons

cacao nibs

3

tablespoons

dried cranberries

mine were sweetened with concentrated pear juice, optional

Handful of cherries
Instructions
Preheat the oven to 250° C (482° F) and bake the whole sweet potatoes for about 30-45 minutes. They are perfectly done and caramelly sweet when the liquid oozing out of the potatoes is charred and starts smelling burnt. Leave to cool completely.

Pit the cherries.

Slice open the potatoes, scoop out the potato meat and discard the skin. By the way, the skin will be charred black, that's totally fine as it's just caramelized sugar from the potatoes.

In a food processor, blend the pitted cherries, the potatoes, cashew or almond butter, and the ground vanilla bean or cinnamon until you get a cream.

Transfer the cream to a bowl, and mix in the oats with a spoon.

Leave the cream to rest in the fridge for 2-3 hours, or overnight.

Give the pudding a good stir, distribute it among bowls or small jars and serve topped with cacao nibs, cranberries, and cherries.

The pudding will keep in the fridge for up to a week (but you will need to give it a stir before eating as some liquid will separate).