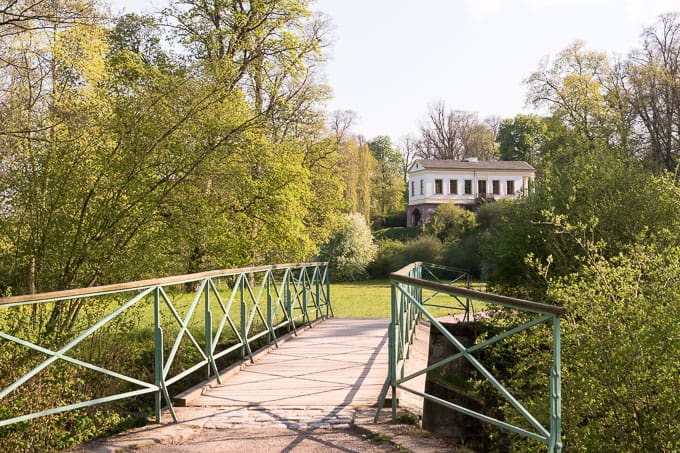 If you are a romantic soul, if you like 18th- and 19th-century architecture, large parks with lawns to lay down and daydream, and taking a peek into how famous writers, thinkers, and composers used to live, you can't but fall in love with Weimar. Such illustrious names like Goethe, Schiller, Bach, and Liszt – to name a few – are all associated with Weimar. Their heritage is everywhere. Take, for example, Goethe's city house with its impressive number of rooms, the huge library, beautiful garden, and his many collections of all kind of things (he was an all-round academic, artist and philosopher), which in my opinion is a must see.
This charming little German city is bursting with culture, sights to see, romantic parks to stroll around, beautiful, awe-inspiring palaces, and last but not least many spots with delicious vegan food to indulge in. How can you not love it? I like the special atmosphere of this city so much so that I literally need to return every now and then to bathe in it and soak it all up.
Jump to: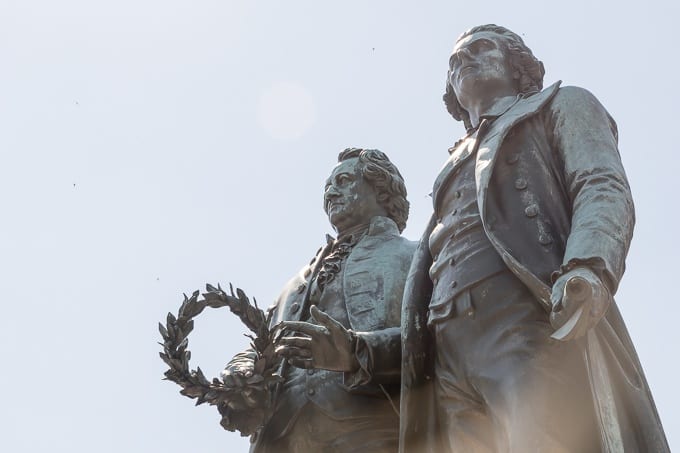 What makes this small city so charming, besides its many tourist attractions and the enchanting atmosphere, is the fact that most of the main sights, spots to eat and park grounds are within walking distance. So you can literally do museum-hopping, or museum-and-café hopping when you need to rest your legs and get a matcha latte refill before diving into the next inspirational sight.
Not surprisingly, the UNESCO declared two ensembles to be World Heritage: "Classical Weimar" and the "Bauhaus Sites". The former includes sites from Goethe's and Schiller's era, the idyllic parks and beautiful palaces. The latter is a tribute to the influence the Bauhaus - a German art school founded in Weimar - had on design and architecture.
With so many inspiring historical and cultural sites to see, the city attracts many visitors. Still, at none of my numerous stays in Weimar did I feel overwhelmed. Quite the contrary, in spite of the tourists there, the city has retained a heavenly tranquility.
At the end of the article you will find a map with all the recommended locations marked. You can also check out the post Weimar - Insider Tips from a Local.
What to see
There are just too many attractions in Weimar in order to mention them all, so I'll just list the ones that stood out to me (besides, I haven't yet managed to see everything).
Goethe's Home
Goethe's residence is a must-see when in Weimar. The great German poet lived in this impressive Baroque house for 50 years until his death and was majorly involved in designing and decorating the rooms (the form of the rooms, furniture, etc.) . Goethe's vast art and nature collections can also be admired here.
Wittumspalais
Beautiful Baroque city palace that was inhabited by the Duchess Anna Amalia of Saxe-Weimar-Eisenach in the 18th century. (See the official website)

Schiller's Home
Schiller's residence gives a great insight into everyday life of the Schiller family and the whole household around 1800. What struck me most was the narrowness of most rooms (esp. those of the children) leaving me questioning how a family of several people, plus servants could manage to live there. It really sets into perspective what we believe decent housing today.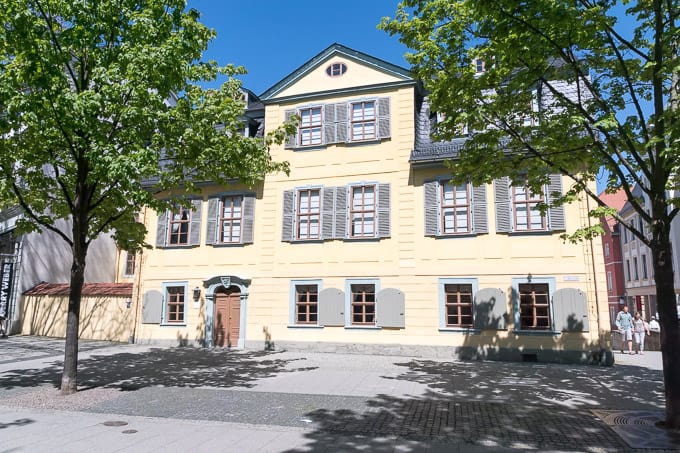 Park on the River Ilm
Vast park area that was designed at the end of the 18th century, tranquil and romantic. You can spend hours there, leisurely strolling around, or just lying on the grass and reading a good book or watching the clouds in the sky.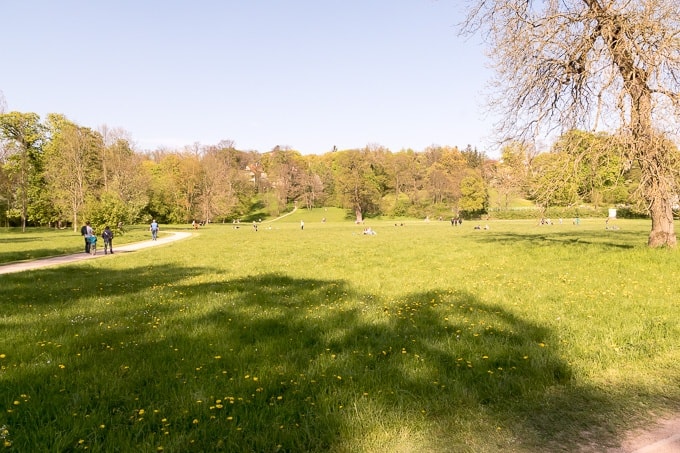 Goethe's Garden House
A rather small cottage with a pretty surrounding garden served as Goethe's first residence in Weimar. As the house is located in the park on the river Ilm, it's best to combine a stroll through the park with a visit to the Goethe's garden house.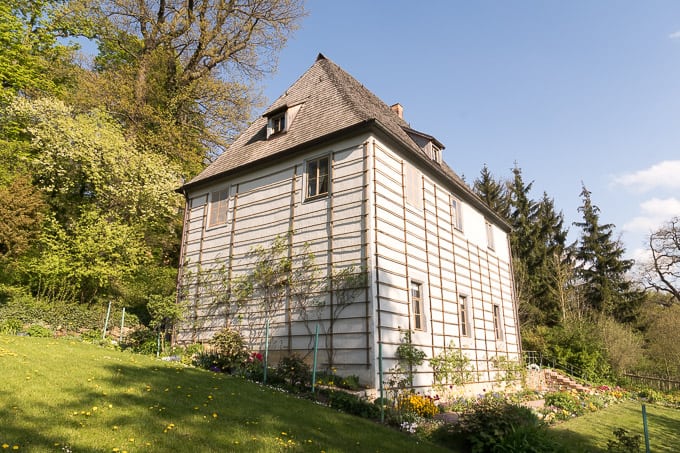 City Castle and the Castle Museum
This 500-year old grand building was built for the Duke of Saxe-Weimar-Eisenach. Today the castle hosts a major art collection centering around the former ducal art collection with works dating from the Middle Ages. The collections spread over many floors of the castle, thus granting the visitors permission to also take a look at the pompous rooms.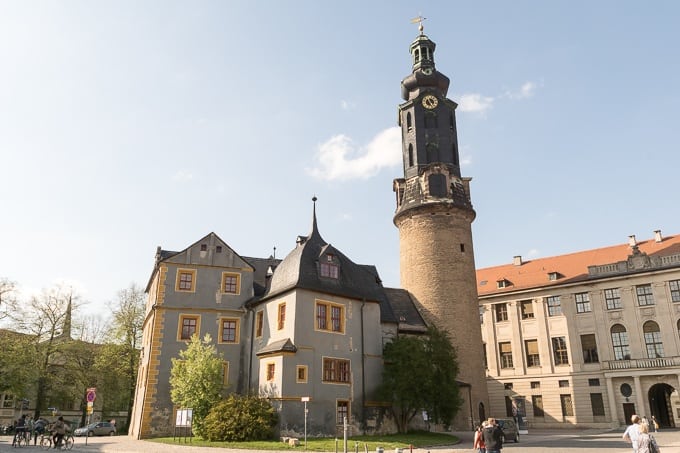 Duchess Anna Amalia Library
A breathtakingly beautiful Baroque library! If you want to visit it, make sure to order tickets in advance as the number of visitors per day is limited due to conservational reasons.
The House of the Composer Liszt
If you need a break from all the baroque pomp of the classical Weimar buildings, go and visit the house of the composer Liszt with its décor and furnishings from the 19th century. Of course, you can also admire some beautiful pianos there.
Bauhaus Museum
This one is for all the art and design enthusiasts out there. Find out about the famous European design school which is closely linked to famous artists such as Wassily Kandinsky, Paul Klee, and Lyonel Feininger. Found in 1919, this school made use of innovative teaching methods, such as creativity training and practical oriented workshops.
Albert Schweitzer Memorial and Museum
The great German humanist Albert Schweitzer who received the Nobel Peace Prize for his ethical philosophy culminating in his words "Reverence for Life" has never lived in Weimar. Yet he is a kindred spirit to many famous former dwellers of Weimar, such as Bach, Goethe, and Nietzsche. The memorial gives a first impression of his life and work, especially his awe-inspiring achievement of building and running a hospital in Lambarene for many decades, in the middle of the jungle in central Africa, under the most adverse conditions.
The Historical Cemetery and the Ducal Vault
When I first set foot on the vast grounds of the historical cemetery, I couldn't believe that it's the main cemetery of Weimar and still "in use". With its park-like setting, its tranquil avenues lined with tall, old trees, its weather worn gravestones, it is rather a surreal place for visitors to wander around, to unwind and think about our own transitoriness.
Spectactular is also the administration building at the main entrance, resembling an English manor house.
The Ducal Vault and the Russian Chapel are located on the grounds of the Historic Cemetery and well worth a visit. The burial vault is not only the last resting place for the members of the ducal family, but also for Goethe and Schiller. Well, actually Schiller's tomb is empty, but you better find out about the appalling (and at times ridiculous) story behind yourself.
The Russian Chapel with its golden domes was built directly behind the Ducal Vault for Maria Pavlovna, the Russian Tsar's daughter.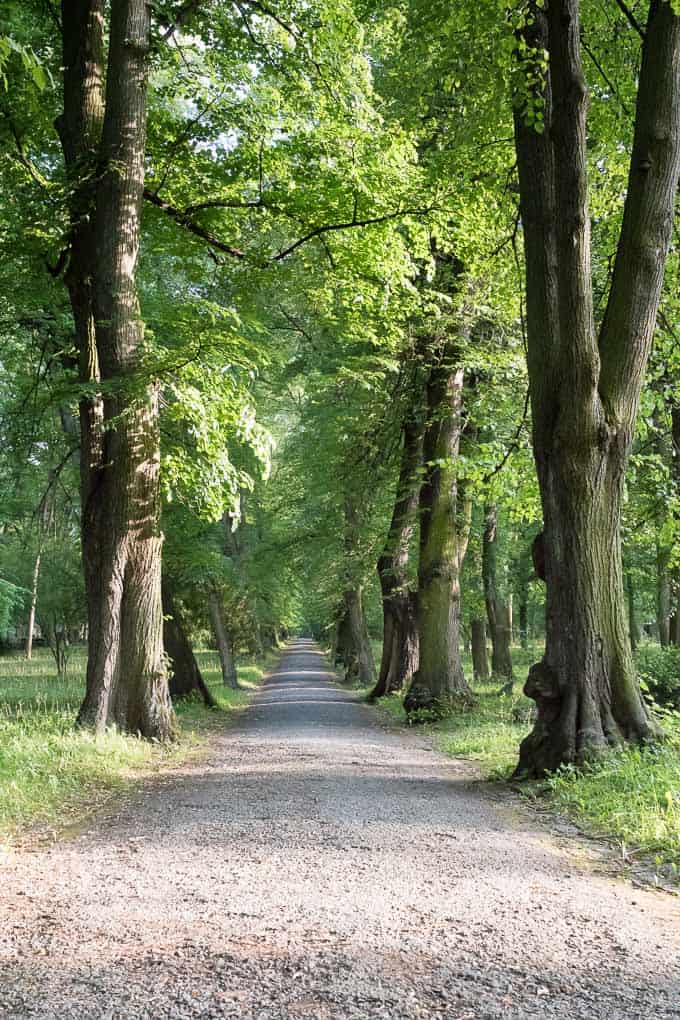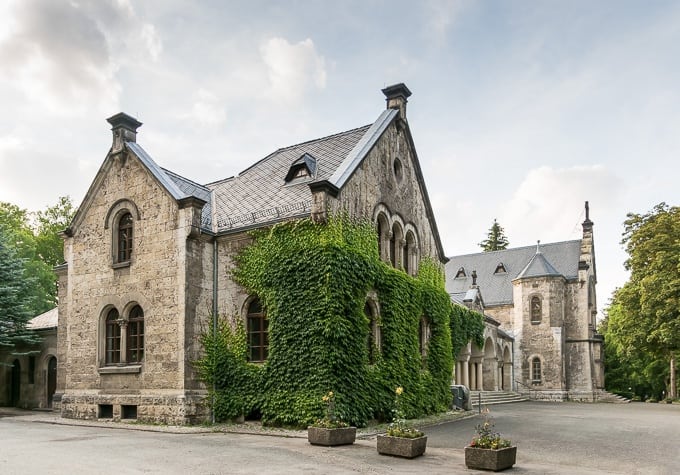 Kirms-Krackow-Haus
Unassuming on the outside, it's like entering a whole new world once you step into the inner courtyard with its wooden arcades. The building itself is one of the oldest bourgeois houses of Weimar, turned into a small museum for historic interior decoration in the early 19th century.
The most stunning part of the museum are the idyllic and romantic gardens to the right of the courtyard. During the warmer season you can sit under beautiful rose bows and sip on your rosé wine, tea, or coffee from the Café du Jardin (located right in the inner courtyard).
Belvedere Castle With Park and Orangery
This castle situated just outside of Weimar is surely bound to impress everyone. 43 hectares of parkland, a pleasure garden, a labyrinth, an orangery! And then the awe-inspiring rooms of the Baroque summer residence! This was definitely my touristic highlight of Weimar.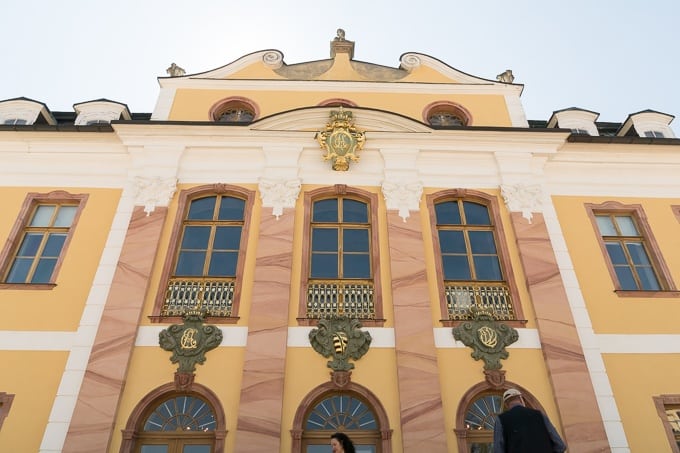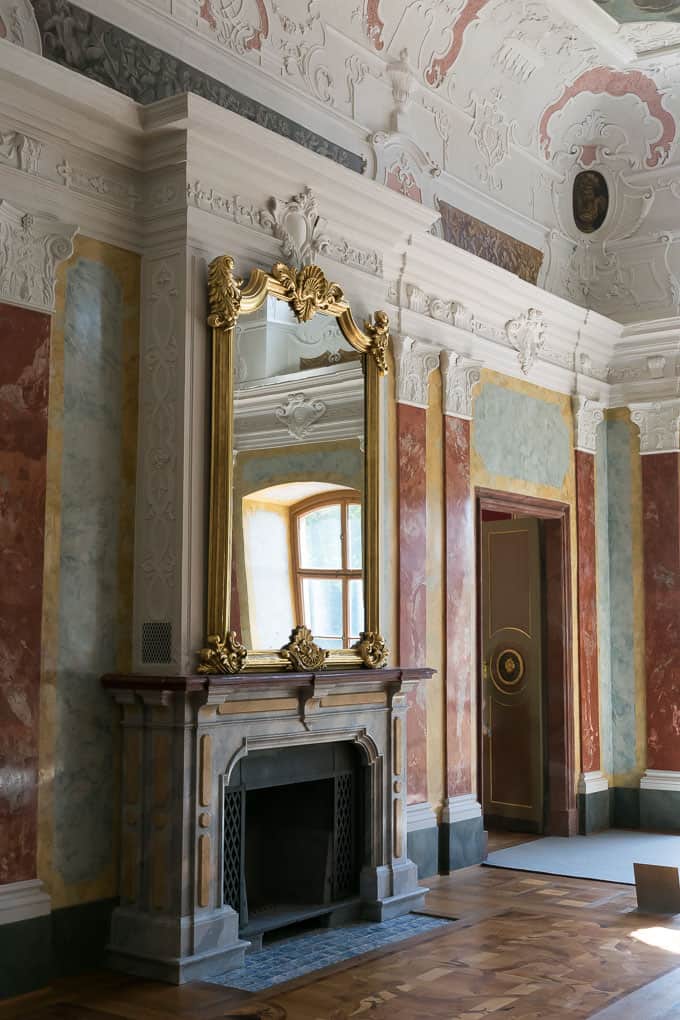 Buchenwald Memorial
I'm ending the list of sights worth seeing on a sad note, as the Buchenwald Memorial is far from being a cheerful tourist attraction to recommend. In fact, it is quite the opposite. The former concentration camp close to Weimar is a place of mass suffering and death, and I'm sure that anyone going there will be deeply touched and disturbed. To me, it took a lot of effort to expose myself to this dark side of humanity, and I guess the same holds true for many people. Still, I think that it is too important a lesson to ignore it.
Where to eat
We found gorgeous places to eat in Weimar, but do check out the open hours online before heading somewhere otherwise you might be surprised to find the place closed. For example, during the week most eateries don't open until 11 a.m. (too bad if you want to have breakfast earlier), and on Sundays some are closed. Still, since all the below mentioned spots are within walking distance, you can easily check out another place if your first choice is closed.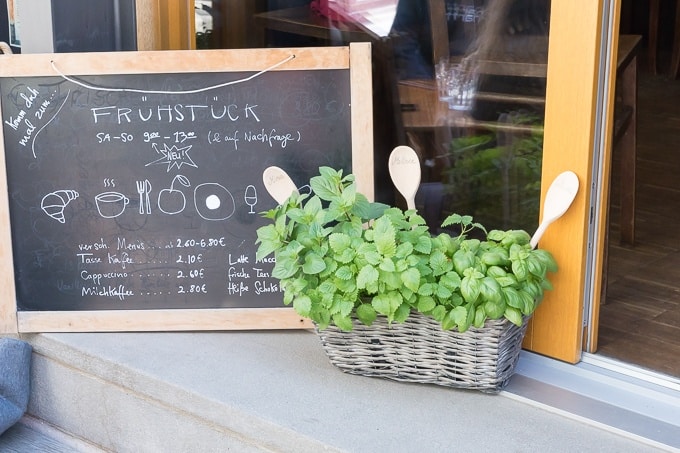 Fama Café & Bücher
Little, cozy place with great vegan breakfast (including gluten-free bread); they also have some vegan choices for lunch or dinner, and yummy smoothies. If you fancy a piece of cake in the afternoon, stop by, they usually have 1 or 2 vegan cakes.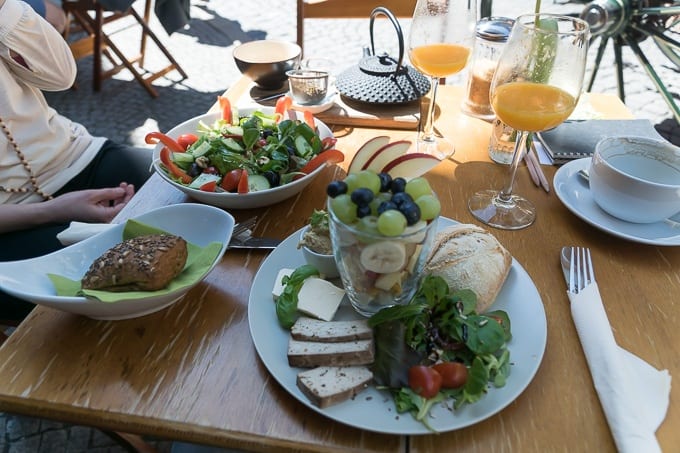 Jelo
Serves organic food and has usually one vegan – and incredibly tasty - main for lunch. I also like the friendly and bright interior.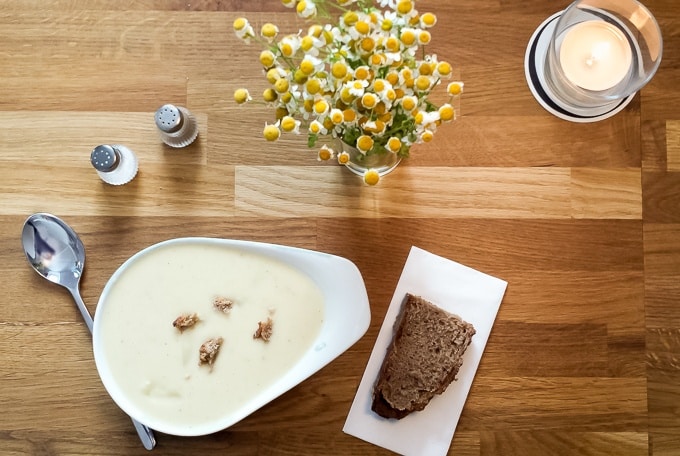 Namu Coffee
A little, fairly hidden coffeeshop gem run by a friendly Korean owner, serving very good coffee and matcha latte (also with soy milk). In fact, it's not only a coffee spot as they also serves Asian food, but I haven't checked yet if there are any vegan options on the menu.
Franz & Willi
Serves fantastic vegan burgers with French fries (both regular and sweet potato fries). They make a point in using only produce that is locally sourced.
Where to shop
Reformhaus Geller
Small organic shop with groceries and personal care products.
Rosmarin
Another small organic store with a big variety of produce that they source locally (as much as possible).
LOVEAFAIR
Fair fashion store with different eco labels, such as Veja or Mandala. Many products are vegan. The store was formerly named SUKI Fair Fashion (as pictured).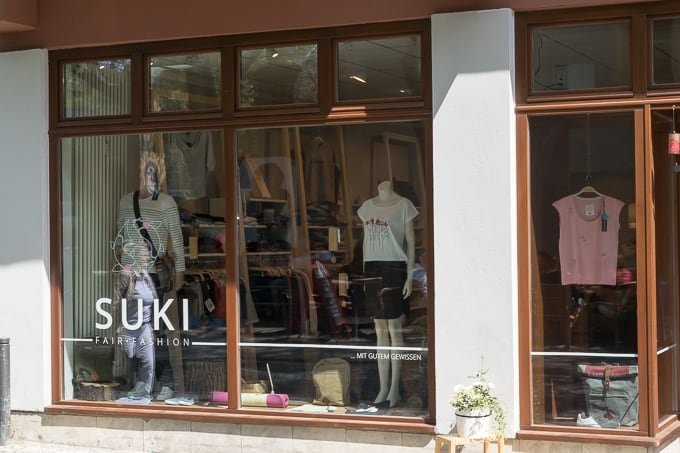 Map
You can find all the spots mentioned above marked on the map.
Find out more about Weimar