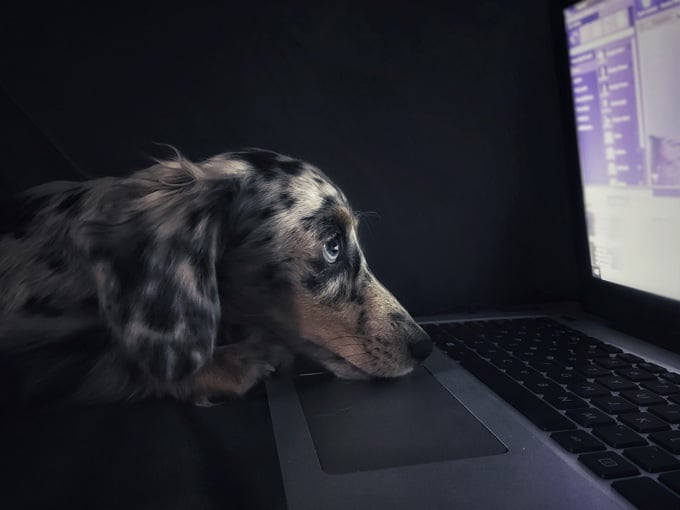 Probably not if you're a PC worker like me.
My new eye doctor is clear-sighted. She hardly looked me in the eye for three seconds before announcing behind her device: "You are working on a PC".
I was impressed! And a little worried because her tone did not bode well. She explained that most people who sit in front of the monitor for many hours have dry, reddened, itchy eyes (yes, that's what my eyes actually felt like). People who sit at their computers all day are staring at their monitors and blink less than usual. Their eyes are no longer moistened enough with tear fluid and fat. The doctor recommended that I use artificial eye drops every hour on working days. I did that, and it helped.
But I didn't just want to fight the symptoms; I wanted to find out how to prevent dry eyes. Luckily, I discovered that just a few simple eye exercises, done regularly, can work wonders.
As so often in life, there is no one-size-fits-all in eye exercises. Therefore, try some of the exercises below and add those that are the most beneficial to you to your fitness repertoire. You'll get the best results if you perform the exercise daily, ideally several times a day.
10 Exercises to prevent & relieve dry eyes
---
Zooming
Stretch out one arm in front of you with your thumb up. Now slowly move your thumb towards your nose and follow it with your eyes. Repeat the exercise 10 times.
Palming
Rub your palms together until they are warm. Now, gently place your palms over your closed eyes and allow them to rest for a minute in comforting darkness.
Figure 8
Stretch out one arm in front of you and "draw" a figure eight in the air. Follow the hand with your eyes without moving your head. Make the eight as small or as large as it feels good for your eyes. Repeat the exercise a few times.
Blink 50 times
Blink 30 to 50 times in a row. This exercise helps prevent dry eyes, but it's also great if you already suffer from dry eyes.
20-20-20 Rule
Every 20 minutes, look at a point about 20 feet (6 meters) away for 20 seconds.
Acupressure points
Close your eyes, and with one or two fingers from both hands, simultaneously press different points around your eyes. You should feel the pressure lightly, but it shouldn't be painful. Find the acupressure points that feel most pleasurable to you and press them for 5-10 seconds at a time.
Eye rolls
With your eyes closed, look up, right, down, and left without moving your head. Try to bring your eyes as far as possible in each direction. Repeat the exercise 10 times clockwise and 10 times anticlockwise.
Post-it on the monitor screen
Having a slip of paper with the words "Please blink" on your monitor will remind you to blink. Alternatively, you can draw a funny cartoon figure on paper as a reminder – anything that reminds you to blink more often while working at your computer is valuable.
Warm compress
Warm compresses are a proven home remedy against dry "PC eyes". Moisten two cotton wool pads with lukewarm water and place them on your closed eyelids for 5-10 minutes.
Relax your eyes during phone calls
If you're not doing FaceTime, use calls to give your eyes a break (esp. from staring at the monitor) and let them wander off into the distance.
---
Happy blinking and eye-rolling - so that we can all enjoy life with healthy, relaxed "peekers". If you want to go a step further, you can look into the benefits of doing eye yoga.
I'd love to learn from you: Are there any eye exercises that you find helpful?
Psst, did you break a bad habit and do you know about the 20 intentions for living a magical life?
Image at the beginning of the post by Kyle Hanson via Unsplash