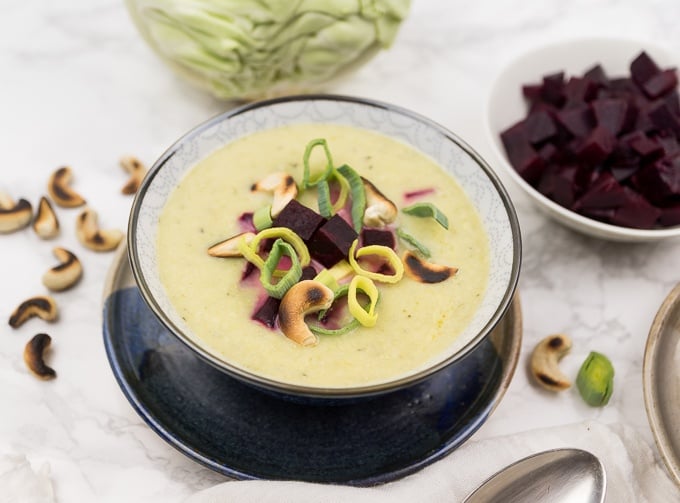 Chilly fall and winter days call for warming creamy soups. I love making them with produce that's in season, such as leek and cabbage. These vegetables pair really well since they both have a pleasant sweetish touch. This sweetness is underlined and balanced by the earthiness of cooked beetroot and the roasting flavors of toasted cashews. Beet and roasted cashews are perfect toppings for this creamy soup, and they turn this simple dish into a delicious comfort food for a windy, rainy, moody day.
Recipe
Creamy Leek and Cabbage Soup with Cubed Beetroot and Roasted Cashews
This leek and cabbage soup with a sweet touch pairs perfectly with the earthiness of cooked beetroot and the roasting flavors of toasted cashews.

Needs soaking of nuts.
Ingredients
200

g

cashews

divided

500

g

fresh beetroot

400

g

leek

1 large leek

1

small cabbage

about 1 kg

2

yellow onions

4

tablespoon

rapeseed oil

or any other neutral tasting oil

2

liters

of vegetable broth

1

teaspoon

dried marjoram

Salt
Instructions
Soak 100 g cashews in water for 3-4 hours or overnight.

Cook beetroot in water until the beet is soft (it's done when you ca easily poke it with a knife through the middle). If you have just one (large) beetroot, it may take up to an hour until it's cooked; Two or three smaller ones usually take between 20 and 30 minutes. Leave to cool when done.

Cut off the hairy end of the leek (the root part) and discard also the dark green ends. Slice the leek lengthwise, fan it open and clean it under running water. Make sure esp. to get rid of the dirt between the individual layers. Chop the leek and put some pieces aside to decorate the soup.

Wash the cabbage, cut it into quarters, and discard the core of each quarter. Chop the quarters finely.

Peel the onions, chop them and saute them in rapeseed oil until they are translucent. Add leek and cabbage to the onion, saute for 5 minutes, then add the vegetable broth and the marjoram. Cook with a lid on until the vegetables are soft (about 15-30 minutes).

Rinse the soaked cashews and blend them with 200 ml of water until you get a smooth cream. Add the cream to the soup and puree it. Taste test and add salt if needed.

Roast 100 g cashews in a pan.

Peel cooked beet and cut it into small cubes.

Serve the soup hot, topped with beet cubes and roasted cashews.