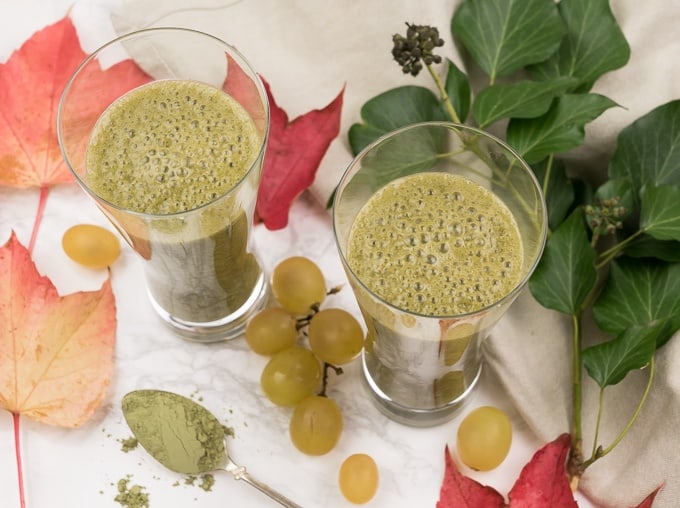 I can hardly believe my luck: It's the end of October and the local organic store still has boxes overflowing with big white grapes on display! Of course I couldn't resist stocking up on them, and was happy to be able to make this delicious smoothie one more time, based on a recipe I created back in September right after the grape season had started.
The main smoothie ingredient are grapes, and if you're like me and buy the ones with seeds, you'll have to put in a couple of minutes of work to deseed them. I think it's worth the work, but if you think that a smoothie shouldn't take 10 to 15 minutes to prepare, then the better choice for you would be a seedless grape variety.
Now let's take a closer look at the other ingredients: Banana, wheatgrass and spirulina. The banana's main purpose is to add creaminess and sweetness. The wheatgrass and the spirulina, on the other hand, provide an extra energy boost. Wheatgrass is supposed to be an excellent blood builder and spirulina a great source of protein. For my part, I'm never sure whether to trust the information on the internet about the claimed health benefits of particular foods. But I can trust my body. And I know for sure that I am bursting with strength after having a glass full of this yummy smoothie.
Green Grapes Power Smoothie with Banana, Wheatgrass and Spirulina
This sweet and delicious smoothie starring white grapes provides you with the extra energy boost thanks to spirulina and wheatgrass.
Ingredients
400-500

g

big white grapes

300

ml

water

1

ripe banana

peeled

1

tsp

wheatgrass powder

½

tsp

spirulina powder

or 1 spirulina tablet
Instructions
Wash the grapes and deseed them by cutting each grape in half and carving out the seeds. Alternatively, you can add the grapes with 300 ml of water to your blender and blend for 1 minute, then strain the liquid through a fine sieve or cheesecloth. I do prefer the first method, though, because more of the grapes' flesh and skins end up in the smoothie (as opposed to ending up in the sieve or cheesecloth).

Add the deseeded grapes and the remaining ingredients to your blender. Blend on high speed until smooth.