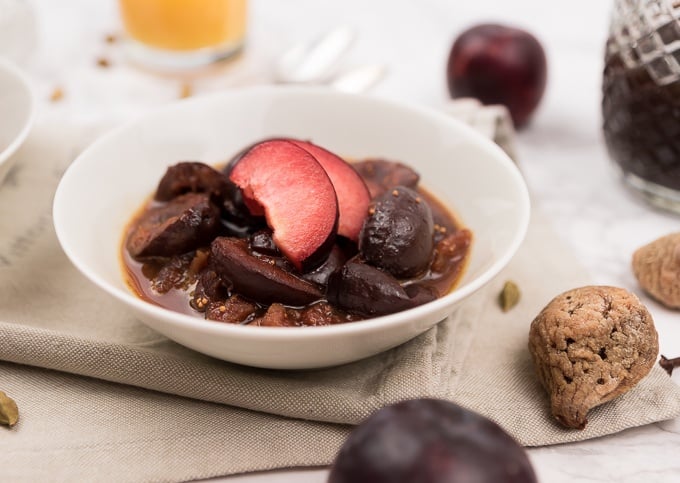 This juicy prune compote is the perfect light dessert when you need something sweet and fruity with that little extra something. It is also a great finish of a heavy meal. Cinnamon, cloves and cardamom are a great spice combo, making this sweet treat earthy and flavorful, yet not too 'Christmassy'. Nevertheless, I can imagine that the compote would make an excellent last course for a Christmas feast.
There are just a couple of ingredients you need and you're good to go. Luckily, you don't need any sugar or sweetener since the dried figs and the orange juice provide all the sweetness needed. An optional ingredient is Sherry. I added it because it goes well with prunes and figs, and it also enhances the warm flavors of the spices. Still, you can leave out the Sherry and the dessert will still be delicious.
By the way, the compote is a wonderful topping for overnight oats, muesli and smoothie bowls, and it loves to accompany a piece of cake or vanilla ice cream. Yum!

| | | |
| --- | --- | --- |
| Juicy Prune Compote with Dried Figs, Cinnamon, Cloves and Cardamom | | Print |
Prep time:
Cook time:
Total time:
Ingredients
550 - 600 g prunes
150 g dried figs (about 8-10 figs)
300 ml orange juice
1 tsp cinnamon
5 cloves
5 cardamom pods
3 tbsp Sherry (optional)
Directions
Wash the prunes, cut into halves and remove the pits.
Chop the dried figs finely. Make sure to discard the hard stem.
Add chopped figs, orange juice, sherry, cinnamon, cloves and cardamom to a pot and cook over low heat for about 10 minutes (with lid on) until the figs are soft.
Add the prunes to the pot and cook for another 10 minutes over low heat (lid on again).
Remove the cloves and the cardamom, and serve the compote hot or warm.